A propos de l'auteur Bananako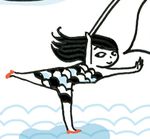 Email : Contactez-moi

Quelques mots sur moi
ALL CONTENT © 2007-2010 bananako.
Tous droits réservés. All rights reserved.
Bonjour, je suis une enfant banane! Venez découvrir mon quotidien illustré entre Paris, Pékin et le reste du monde.
Hi, I am bananako, the banana kid! You are welcom to discover my illustrations about my life between Asia & Paris!